Boiled Peanut Hummus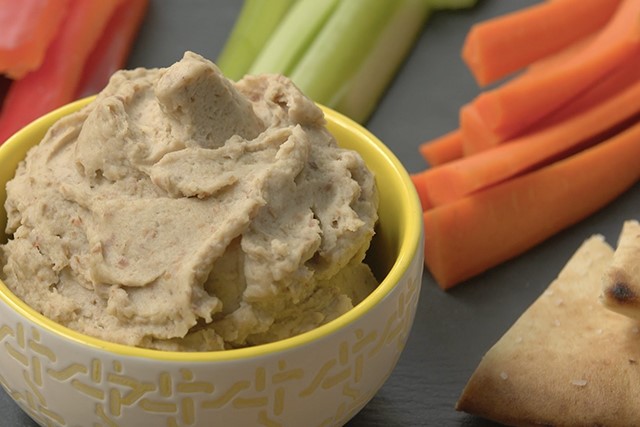 Ingredients:
1 cup shelled boiled peanuts (recipe below)
2 tablespoons tahini
1 medium clove of fresh garlic, peeled and minced
1 tablespoon lemon juice
1/4 teaspoon ground cumin
Dash of cayenne
4 tablespoons olive oil
Salt and pepper to taste
Instructions:
Combine the boiled peanuts, tahini, garlic, lemon juice, cumin, cayenne, salt and pepper in a food processor and turn on low.
With motor running slowly add the olive oil to emulsify.
Add more olive oil if needed to get the hummus to a spreadable consistency.
Serve with bread, crackers, pickles and crudité.
Boiled Peanuts Instructions:
Rinse a 24 oz. bag of raw in-shell peanuts.
With their shells still on, place peanuts in a large stockpot, and cover completely with water and a ¼ cup salt.
Bring to a boil over high heat.
Cover pot, reduce heat to medium-low, and cook 6-8 hours or until peanuts are tender, stirring occasionally.
Add more water as needed to keep the peanuts covered.