Nut Butter Grinding & Grinder Equipment
The SG5000 Nut Butter Grinder, a modern solution for fresh-ground, delicious nut butter that is easiest to clean and maintain.
Consumers are interested in natural and simple ingredients. Make fresh ground nut butter available in your store. Set it up in your store, cafeteria or corporate kitchen and satisfy your customers with an easy solution for incredible nut butters!
Grinds peanuts, cashews, almonds, mixed nuts and more
Holds more in a smaller footprint
Easy to maintain and mess free
Intuitive soda type operating mechanism
The SG5000 is certified by   
For more information or any product specification questions please call (800) 639-4093.
Product
Hampton Farms provides properly roasted and sized nut butter stocks, including chopped or whole peanuts, almonds & cashews as well as specialty salted nuts, honey roasted nuts, butterscotch brittle, etc.
Buy Now
---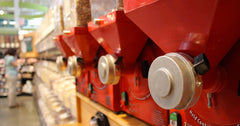 PN1 Model (discontinued in 2011)
---
Fresh Ground Nut Butters Are a Smart Choice
Consumers Love the Fresh Ground Taste
Variety of Flavors
Good Source of Protein
Low in Saturated Fats
Cholesterol & Trans Fat Free
Gluten-Free Options Available
Program Features Attractive, High-Quality Mills
Easy to Maintain
Simple to Clean
Industrial Grade
Up to 10-Year Lifespan with Proper Care
Color-Coded Graphics Help Consumers Easily Identify Their Favorite Flavor
Great Merchandising Opportunity
Eye-Catching Mills Attract Attention
Maximize Visual Impact and Sales Volume
High Gross Profit Potential
Cross-merchandise with other foods such as bread, bagels or fruit
Topping bars are extremely popular and engaging
Purchase Options
Learn More
New SG5000
---
PN2
If interested in our PN2 machine or custom program please contact us
---
Frequently Asked Questions
Learn More
Once the product is ground, what is the shelf life?
The shelf life of the product (stored at room temperature) is roughly 8 weeks.
How easy is it to clean the machine?
It is a simple procedure to clean the mill. It will take approximately 30 minutes. Complete instructions are included with the mill. 
How long will it take to get a full return on my ROI (return on investment)?
Most customers pay for the Mill within three to six months based on product usage.
Of the stock offered, what flavor proves to be the most popular?
Our sales data shows the following ranking:
Honey Roasted Peanut
Natural Peanut 
Almond
Organic Peanut 
Regional preferences may occur.
---