One-Pan Thai Peanut Vegetable Pasta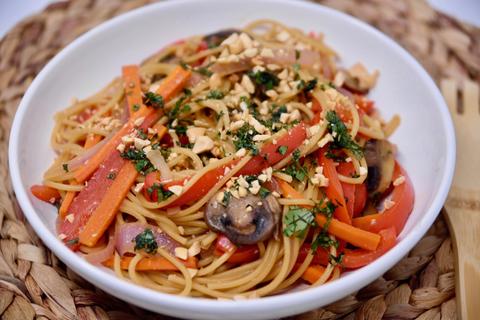 Ingredients:
1 tablespoon olive oil
1/2 red onion, halved and sliced into half moons
16 ounces cremini mushrooms, stemmed and sliced
1 large carrot, cut into matchsticks
2 cloves garlic
1 tablespoon grated fresh ginger*
1 large bell pepper, sliced (I used 1/2 yellow and 1/2 red)
5 tablespoons reduced sodium soy sauce
2 tablespoons rice wine vinegar
2 tablespoons Hampton Farms Creamy Peanut Butter
3 1/2 cups low sodium vegetable broth
8 ounces whole wheat spaghetti
Juice of 1 lime, plus more for serving
1/2 cup chopped cilantro
1/2 cup Hampton Farms chopped peanuts
Instructions:
1. Heat the olive oil in a large skillet over medium heat. Add the red onion, mushrooms, and carrots and cook for 5 minutes or until softened. Add the garlic, ginger, and bell pepper and saute 2 minutes.
2. Whisk together the soy sauce, vinegar, and peanut butter. Add to the skillet, followed by the broth, and stir to combine.
3. Add the spaghetti and stir as it softens. Increase the heat to medium high, cover, and bring to a boil. Remove the lid and lower the heat to medium. Cook for 9-12 minutes or until the pasta is al dente and has absorbed most of the liquid, stirring occasionally.
4. Remove from heat and stir in the lime juice and cilantro. Serve with the chopped peanuts, extra lime, and enjoy!