Peanut Vegetable Salad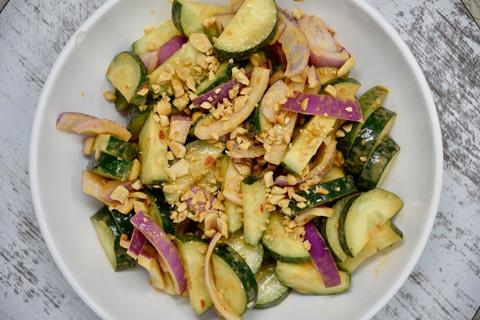 Ingredients:
2 ½ tablespoons rice wine vinegar
3 tablespoons peanut butter
1 tablespoon sugar
½ tablespoon Thai chili garlic paste
¼ teaspoon salt
6 cups sliced and halved seedless cucumbers
⅓ cup thinly sliced red onion
3 tablespoons chopped unsalted peanuts
Instructions:
1. In a jar with a tight-fitting lid,combine vinegar, peanut butter, sugar, chili garlic paste, and salt. Cover and shake until smooth. Place cucumbers and onion in a large bowl. Just before serving, add dressing and toss to coat. Top with peanuts.