Spicy Fried Peanuts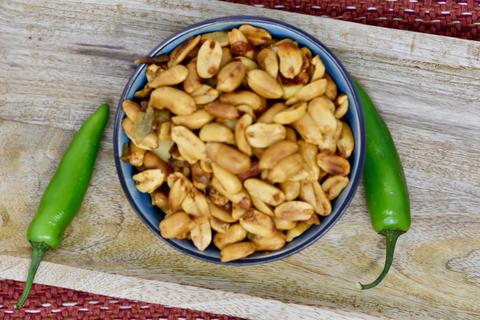 Ingredients:
2 fresh green chiles
1 teaspoon kosher salt
Juice of 1 lemon
½ pound Hampton Farms Valencia Peanuts, raw and skinned
8 small garlic cloves, peeled and smashed
1 tbsp ancho chile powder 
Instructions:
1. Toast the green chiles in a skillet on medium-high heat until it starts to blister and roast. Remove from heat, cut off stem, and mince. Grind with salt in a mortar and pestle. Add lemon juice to chile mixture, mix well, and set aside.
2. In a skillet over low heat, toast peanuts and garlic cloves for 5 minutes. Be sure to shake the pan to keep ingredients from burning.
3. Add the ancho chile powder and toast for 1 minute. Transfer to a dish and drizzle with chile-lemon mixture.