Chewy Peanut Butter Cookies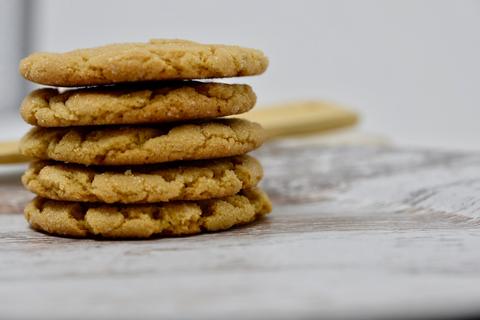 Ingredients:
1 cup brown sugar, packed
1 cup granulated sugar
½ cup vegetable shortening
½ cup butter, softened
1 cup Hampton Farms Creamy Peanut Butter
½ teaspoon kosher salt
2 eggs
2 teaspoon vanilla extract
2 teaspoon baking soda
2 ¼ cups flour
Instructions:
1. Preheat oven to 350 degrees F. Line a cookie sheet with parchment paper.
2. Cream together the sugars, shortening, butter, and peanut butter.
3. Add the eggs and vanilla. Mix until well combined.
4. Mix the dry ingredients together, then add the dry ingredients to the cream mixture.
5. Roll the cookie dough into tablespoon-size balls. Roll in sugar.
6. DO NOT mash them down with a fork.
7. Bake 11-13 minutes.